Ted Nelson en su casa. La foto es del New York Times
Dice Wired que la suya es "la señal de humo más larga de la historia de la industria de la computación". Bueno, la suya no. En realidad la de
Xanadu
, el primer proyecto de hipertexto que fundó en 1960 y que podía haber cambiado Internet tal y como lo conocemos. Se queja mucho, pero
Ted Nelson
tiene la enorme suerte de ser el outsider por antonomasia de la historia de Internet, la cara B de la versión californiana encarnada por
Tim Berners-Lee
, el inventor de la World Wide Web en su diseño actual. Esa otra historia de Internet, Nelson la revisa, con chismes e irónica amargura, en su último libro,
"Geeks Bearing Gifts: How the Computer World Got This Way"
editado por él mismo a través de Lulu.com.
My prediction for the future – This is going to be one of the most important, and potentially one of the most influential, computing books ever. Wendy Hall, president of the Association for Computing Machinery. The world society of Computer Scientists.
Crecido en el Greenwich Village de New York, hijo de un director de cine y una actriz, Ted Nelson es el papá de palabras tan célebres como
hipertexto
(y dicen que también de hipermedia, casi nada) y de ideas tan brillantes como la del botón de ir hacia atrás de los navegadores.
Para él, la versión actual de la web es una banalización de su diseño original que incorporaba el concepto de link de doble dirección: es decir, que el hiperlink debía apuntar hacia adelante y hacia atrás para proteger "el linaje intelectual de cada documento".
Today's popular software simulates paper. The World Wide Web (another imitation of paper) trivialises our original hypertext model with one-way ever-breaking links and no management of version or contents"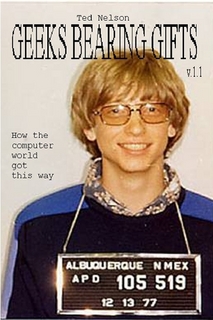 En su nuevo libro, la portada es para Bill Gates inmortalizado en su faceta más sexy, cuando fue detenido por la policía en 1977:
Esta es quizás la imágen más fascinante y atractiva que tenemos de él, irradia dulzura y confianza en sí mismo. Se puede ver que tiene algo entre manos y los policías no tienen ni idea de lo que es.
Y continúa con Micrososft y Windows, que considera el resultado arbitario de prácticas comerciales pero no de la evolución inevitable de la tecnología.

Durante mucho tiempo me ha alarmado la facilidad con la que se ha aceptado la expresión "computer technology", suena tan objetivo e inexorable, cuando la mayor parte de la tecnología no es más que un puñado de ideas convertidas en convenciones y paquetes.